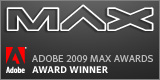 Equipment Simulations LLC is proud to have its CommandSim product be selected as a finalist for an Adobe MAX 2009 award, in the category of Public Sector. The public vote will decide on the winner. Voting begins September 28, and closes October 6 (the awards ceremony).
CommandSim helps tens of thousands of emergency responders each month to practice essential incident response skills around command, strategy, tactics, communication, and equipment. It is a proven learning environment that has documented evidence of its value in translating results into best practice in the field.
This page will automatically transfer to the voting site when public voting goes live on Monday, September 28. If it does not automatically transfer,
Please forward this link to your friends, and thank you for your support!